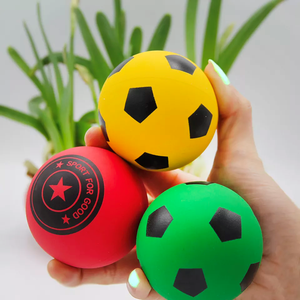 Display your brand in a showy and relevant way with a promotional bouncy ball. With our custom bouncy ball, design how you like and we'll help you make it happen.
Low minimum order quantity
We'll also help design them for free
We have offices in the UK, USA & Australia and distribute globally
Let your brand do the talking for you on a quality piece of custom equipment that sends the right message.

ITEM DETAILS
Introducing Custom Bouncy Balls: Unleash Fun and Promote Your Brand with Every Bounce!
Key Features:
Crafted with high-quality materials for durability and long-lasting play.

Fully customizable design options to showcase your brand logo or message.

Compact and lightweight for easy storage and portability.

Provides an enjoyable bounce for hours of entertainment.

Vibrant colors and eye-catching patterns for visual appeal.
Benefits:
Increase brand visibility with personalized custom bouncy balls.

Engage and captivate your target audience with a fun and interactive toy.

Versatile promotional item suitable for a wide range of events and occasions.

Ideal as giveaways, party favors, or promotional merchandise.

Create a lasting impression and foster brand recognition with each bounce.
Why Choose Our Custom Bouncy Balls?
Premium quality ensures a durable and reliable bouncing experience.

Unlimited customization options to reflect your brand identity.

Portable design allows for easy distribution at trade shows, events, or parties.

Versatile applications for marketing campaigns or playful activities.

Make your brand stand out with visually appealing custom bouncy balls.
Order Your Custom Bouncy Balls Today and Bounce Your Brand to New Heights!
But how much is a custom bouncy ball?
As all designs and locations are different we need a couple of detail from you, simply fill out the form,
email
us or live
chat now
.




Need help designing?
Send us your logo, branding guideline, imagery or any inspiration you have, and we will create some concepts and mock-ups for you.


Perfect for:
Promotional items

Marketing

Sweepstakes prizes

Campaigns

Events