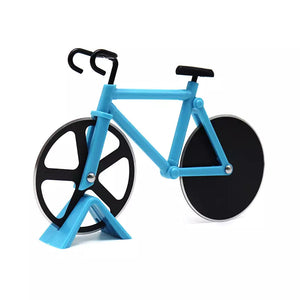 Display your brand in a showy and relevant way with a promotional bike pizza cutter. With our custom bike pizza cutter, design how you like and we'll help you make it happen.
Low minimum order quantity
We'll also help design them for free
We have offices in the UK, USA & Australia and distribute globally
Let your brand do the talking for you on a quality piece of custom equipment that sends the right message.

Get A quote
Get in touch for a quote within 30 minutes
ITEM DETAILS
Introducing the Custom Bike Pizza Cutter: Slice Your Way to Pizza Perfection in Style!
Key Features:
Expertly crafted with high-quality materials for durability and precision cutting.

Customizable design to showcase your unique personality or brand logo.

Resembles a mini bicycle, adding a fun and playful touch to your kitchen.

Stainless steel cutting wheel for effortless slicing through any pizza crust.

Easy-to-grip handles for comfortable and controlled cutting motions.
Benefits:
Slice your favorite pizzas with ease and style using a custom bike pizza cutter.

Impress your guests with a unique and conversation-starting kitchen accessory.

Show off your personality or promote your brand with a personalized design.

Effortlessly glide through any pizza crust for perfectly portioned slices.

Bring joy and excitement to pizza nights or dinner parties with this eye-catching tool.
Why Choose Our Custom Bike Pizza Cutter?
Exceptional craftsmanship ensures a durable and long-lasting kitchen essential.

Customization options allow for a one-of-a-kind pizza cutter tailored to your taste.

Functional and fun design adds a touch of whimsy to your culinary adventures.

Stainless steel cutting wheel guarantees efficient and precise pizza slicing.

Stand out from the ordinary and make a statement with a custom pizza cutter.
Order Your Custom Bike Pizza Cutter Today and Slice Pizza with Flair!
But how much is a custom bike pizza cutter?
As all designs and locations are different we need a couple of detail from you, simply fill out the form,
email
us or live
chat now
.




Need help designing?
Send us your logo, branding guideline, imagery or any inspiration you have, and we will create some concepts and mock-ups for you.


Perfect for:
Promotional items

Marketing

Sweepstakes prizes

Campaigns

Events
Get A quote
Get in touch for a quote within 30 minutes