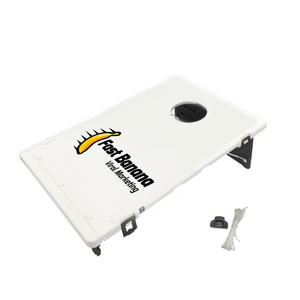 Display your brand in a showy and relevant way with a promotional baggo board set. With our custom baggo board set, design how you like and we'll help you make it happen.
Low minimum order quantity
We'll also help design them for free
We have offices in the UK, USA & Australia and distribute globally
Let your brand do the talking for you on a quality piece of custom equipment that sends the right message.

ITEM DETAILS
Introducing our Custom Baggo Board Set - Elevate Your Outdoor Fun!
Are you ready to take your outdoor entertainment to the next level? Look no further! At Disrupt Sports, we bring you an exceptional custom Baggo board set that will make every gathering a memorable experience. With our state-of-the-art customization options, you can design a board set that perfectly reflects your style, personality, and love for outdoor games. Get ready to stand out from the crowd and create lasting memories with friends and family!
Why Choose Our Custom Baggo Board Set?
Personalized Design: Express your individuality and make a statement with a custom Baggo board set designed exclusively for you. Customize every aspect, from the board color to the artwork, and create a masterpiece that showcases your unique style.
Premium Quality: We understand the importance of durability and long-lasting enjoyment. Our Baggo board sets are meticulously crafted using high-quality materials, ensuring they can withstand countless hours of play without compromising on performance or aesthetics.
Exceptional Performance: Experience the thrill of precision and accuracy with our top-of-the-line Baggo boards. Each board is expertly designed to provide a smooth and consistent playing surface, guaranteeing hours of competitive fun for players of all skill levels.
Portable and Convenient: Our Baggo board set is lightweight and easy to transport, making it perfect for outdoor adventures, picnics, tailgating, or backyard parties. Set up in minutes and let the games begin, wherever you go!
Weather Resistant: Don't let unpredictable weather dampen your outdoor fun. Our Baggo board set is built to withstand the elements, ensuring it remains in excellent condition even when Mother Nature isn't cooperating.
Great Gift Idea: Looking for a unique and memorable gift? Our custom Baggo board sets are perfect for outdoor enthusiasts, game lovers, and anyone who enjoys friendly competition. Surprise your loved ones with a personalized set that shows how much you care.
Unleash the joy of outdoor gaming with our Custom Baggo Board Set today! Elevate your outdoor gatherings, create unforgettable moments, and enjoy the thrill of playing with a board set that's as unique as you are.
But how much is a custom baggo board set?
As all designs and locations are different we need a couple of detail from you, simply fill out the form,
email
us or live
chat now
.




Need help designing?
Send us your logo, branding guideline, imagery or any inspiration you have, and we will create some concepts and mock-ups for you.


Perfect for:
Promotional items

Marketing

Sweepstakes prizes

Campaigns

Events