What Makes a Good Yoga Mat?
Wondering whether a mat can really make a difference? Well, this article has been specially crafted for you as we have crafted a comprehensive list showing just what makes a good yoga mat.  
Thickness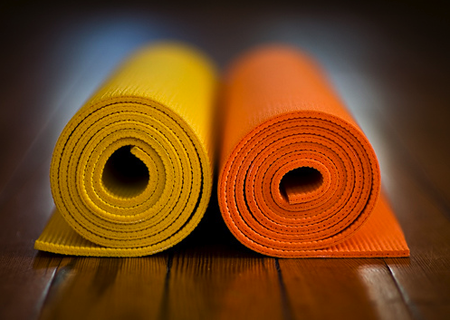 One of the first things to consider when purchasing a mat is thickness. The thickness of a mat really makes a difference in the comfort felt whilst practicing yoga. Yoga mats generally range anywhere from ¼ thickness to 1/16, depending on your skill level and the mats purpose. Depending on whether you would like the pad to be more cushioned or easier to travel will affect your mat needs. For beginners, mats with a little more cushioning would be the better choice as you may feel more of the strain absorbed by the mat itself.  
Durability
When investing in a yoga mat, you want to purchase a mat that you know is going to last, hence the reason why durability is crucial. A mat's durability can be one of the key aspects that make a good yoga mat. When testing yoga mats durability one of the main things to consider is the yoga mats ability to maintain its initial structure. A typical yoga mat, when proper care is taken, should only begin to wear after ample amounts of use as a good mat can last years.  
Materials
When wondering what makes a good yoga mat it is integral to consider the materials used to craft the mat itself. When choosing your yoga mat it is important to choose a material that is eco friendly and ensures that there are no harmful aspects such as PVC and phthalates. By avoiding these kinds of destructive elements, the yoga mat you purchase will benefit you whilst simultaneously benefitting the environment.  
Texture
The texture of a yoga mat is one of the most defining features in determining a good yoga mat. A good yoga mat should always be capable of providing stability without feeling a little too rigid. Another important aspect when observing the texture of a yoga mat is the 'wet traction' of the mats used. When partaking in more strenuous forms of yoga, wet traction is crucial as it allows the person practicing to maintain grip whilst sweating. When trying to find a mat with good texture, mats made with rubber, cotton or jute are often the best choices.  
When choosing the right yoga mat, it can be difficult knowing what makes a mat worth the investment. By going through these main factors, it should be easier for you to make an informed decision. High quality, customized yoga mats can be found here.
Get A quote
Get in touch for a quote within 30 minutes