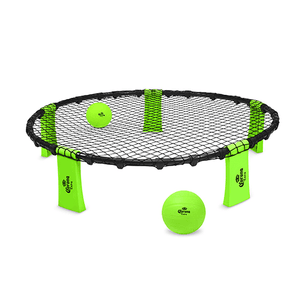 Land into your customers' attention. Get this promotional Slammy Ball round net game from Disrupt Sports. Custom designed to help your brand make an impact.

ITEM DETAILS
Promotional Slammy Ball
Keep your marketing spiking and active with this promotional Slammy ball. Bring round net and custom designed spike ball anywhere. It can be played on the beach, your backyard, and the local park. Spike ball is one of the most modern sports today (a combination of volleyball and ping pong) which can reach out to a large market like children, teenagers, adults, and families. Bring out your brand through this fully customisable spike ball.
Promotional Slammy Ball Key Features
Materials: Plastic
Kit includes:

Branded Base Unit (easy to assemble)
trampoline cover
3 balls
bag
instructions
Screenprint Side logo, Branded balls, and bag, PMS matching at volume
Key information
Retail quality
Direct fulfillment to multiple locations available
Fully custom (size, shape, artwork)
We have offices in the UK, USA & Australia and distribute globally
But how much?
As all designs and locations are different we need a couple of details from you. So simply fill out the form, email us or live chat now.

Need help designing?
Send us your logo, branding guideline, imagery or any inspiration you have. We will create some concepts and mock-ups for you.
Want more promotional sports equipment?
Looking for more promotional equipment and accessories from Disrupt Sports? Try our Snooker Cue or and Snooker Balls.